Pradeep Kumar Hota is a post-doctoral research fellow in social entrepreneurship at the Research School of Management, Australian National University. He is also a visiting assistant professor in the Strategy and Entrepreneurship area at LM Thapar School of Management, Thapar Institute of Engineering and Technology. He has done a Ph.D. in Strategic Management from IIM Kozhikode and his thesis was in the area of resource mobilization in social enterprises operating in resource-constrained environments. His research interest lies in the areas of hybrid organizations, social entrepreneurship, entrepreneurship, sustainable development, and resource mobilization. He particularly engages in research that investigates social entrepreneurial initiatives in rural areas aimed at improving the livelihood of the village poor. Moreover, he is actively involved in teaching at the doctoral and postgraduate levels. He has expertise in qualitative research methodology and bibliometric techniques. He has published in the Journal of Business Ethics, Management and Organization Review, and Computer in Industry along with other academic outlets. Apart from his academics engagement, he has been actively involved with multiple social enterprises at various capabilities.
Thank you so much, Dr. Hota, for this interview.
Inkpothub: What made you do post-doc in Australia? What was your approach/ process to apply?
Prof. Pradeep: I applied for the post-doc position during June-July 2019. At that time I was working with LM Thapar School of Management, Chandigarh. I was quite settled there. But I wanted to do a post-doc where I could enhance my expertise by working or collaborating with some prominent researcher in the area of social entrepreneurship. So I was looking for a post-doc position aligned with my interest. One day, I saw an open advertisement for a post-doctorate research position at the Australian National University. It was in the field of social entrepreneurship and was about understanding the social cohesion in the Australian communities. I applied for that and I was offered the position.
"In short, in this particular decision to pursue a postdoc: everything was matching with my area of interest, the university is quite a research-intensive, people involved in this project are strongly research-oriented with publications in top notch journals. Therefore, I thought this would be a good opportunity for me and here I am".
Inkpothub: Tell us about your research paper "Mapping the intellectual structure of social entrepreneurship research: A citation/co-citation analysis" which got published in the Journal of Business Ethics 'A' category journal.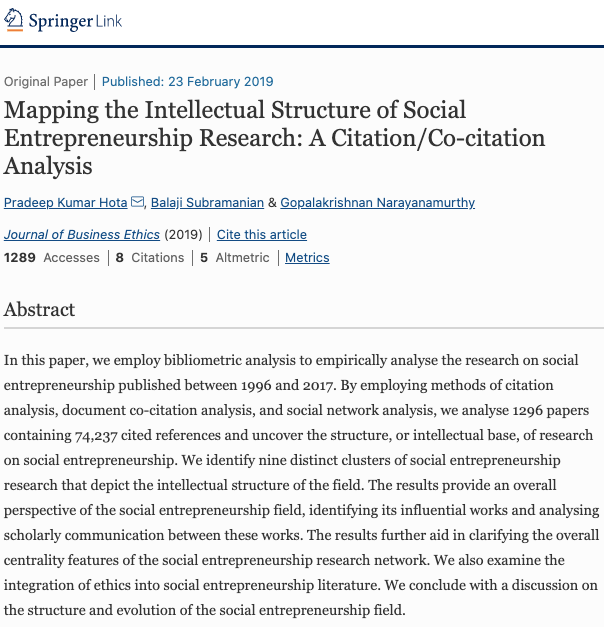 Prof Pradeep: We started working on this paper from around July 2017. It was a long journey and way back related to the start of my Ph.D. in 2012 in the area of social entrepreneurship.
Since then I was looking at the literature on social entrepreneurship. I read the literature review papers. They were either subjective or systematic reviews. The problem with such reviews was that they are biased either by the researcher's experience or by the researcher's own conceptualization of things.
"I got to know about Bibliometric Analysis which is more of a quantitative review as opposed to a typical subjective review. So, I explored the bibliometric techniques. There are multiple techniques. I used two of them they are citation and co-citation analysis. And to make it richer we also added social network analysis".
When the analysis was done, we found many interesting things that were coming out. For example, when we split the time period as before 2012 and after 2012. We found that before 2012, it was predominantly about the traditional resource-based view which had dominated the field. But after 2012, 'hybridity' got prominence. In further analysis, we found that there was a cluster that started developing on ethics.
In the early stage of social entrepreneurship research, schoalrs thought if something has to do with social then that is ethical by default. But when hybridity came into social entrepreneurship literature there aroused a problem. Because social enterprise started focusing on profit making along with social value creation; although that profit is used for financial viability. At this time the ethics of social enterprises were questioned. From our co-citation analysis, we identified that ethics was getting prominence in the area of social entrepreneurship. And it was very new and interesting, so we decided to submit it to the Journal of Business Ethics and it got through.
Inkpothub: Tell us how you address the author's dynamics? how do you manage to work with different authors?
Prof. Pradeep: Very simple. If one is ethical and transparent then everything goes fine.
Fortunately, all the people I have worked with, I never had any issue.
Inkpothub: Tell us about your other interesting paper wherein you used some strategic management concepts like Bricolage and Resource Constraints: Adopting Bricolage to Overcome Resource Constraints: The Case of Social Enterprises in Rural India.
Prof. Pradeep: Basically, within strategic management, the resource-based view (RBV) was our initial anchor. And bricolage is the part of RBV.
So, when we went to the field, we got to know that social enterprises in India are facing many resource challenges. But then, there are some social enterprises even with the resource challenges that are performing well. So, we decided to study them. So initially as it happens to any qualitative inductive study, we looked on resources and resource mobilization. After the collection of data, we realized that many of the things which we were doing are falling under the umbrella of bricolage. So, we positioned our study onto this.
Inkpothub: What are your future plans?
Prof. Pradeep: As of now, I looking forward to completing my postdoc in 2 years and then will think about next step. The time will tell. It's too early to say anything.
Inkpothub: What would be your message to the fellowship/ Ph.D. candidates who long for PhD./ FPM?
Prof. Pradeep: I think the only thing they need is: consistency and commitment.
They should be realistic and ready to work for at least 4-5 years consistently. And Work for 5-6 hours a day. They should be prepared in that way. I think that will be enough for them.
And after the admission, it's all about the commitment one has made to oneself.
One good thing is that seriousness towards research and publication has increased in the academia of India. Now PhD programs are increasingly getting oriented towards publication and hopefully we will see many interesting publications from India in the coming years.