Dr. Rituparna Basu is an internationally acclaimed academician and researcher in the domain of Marketing. After a 5 years stint in the industry as a media marketing professional, Dr. Basu completed her Ph.D. in Management from IIT Kharagpur to join full-time academics at IMI Kolkata in January 2013. Dr. Basu is an alumnus of the highly acclaimed St. Xaviers' College, Kolkata, and holds a B.Sc. degree with Economics honors. She also has a gold medal to her credit for her Master's in Business Administration. She has received several prestigious global awards for her contribution to management teaching and research. Recently she won the runner's up the title in the CEEMAN-Emerald case writing competition 2020. She has been the first-ever double award winner at ISB Ivey Global Case Competition 2018, after winning the overall ISB-Ivey Global Case Competition 2017 along with a cash prize of 6000 Canadian dollars for her teaching cases that are taught across the best business schools across the globe and indexed by Harvard Business Publishing. Her research accolades include the prestigious AIMS Woman Management ResearcherAward 2017, AIMS-IRMA Young Woman Management TeacherAward in 2016. She received the Venus International Foundation's Outstanding Woman in Management Award 2017, nominated for Sanmarg Aparajita Awards 2018 as Young Achiever in the Education category, and felicitated with a Best Researcher Award at the Sankalp Education Awards 2019 hosted by David and Goliath at JW Mariott. Dr. Basu is one of the very few European Union's Erasmus + Learning Agreement Grant Awardee2018-19 and has been assigned to deliver lectures at the top French Public University, UPEM, Paris for her practice and research-led teaching.
1. You are a researcher, case-writer, and an amazing teacher. Your updates on LinkedIn regarding different award-winning cases are inspiring. But who is Rituparna Basu? Please share your research journey with us.
I am glad that you asked me this question because perhaps this gives me an opportunity to introspect on my journey so far. To put it simply, I have always been very passionate about learning anything that came my way and I have always been a person who has followed what life had to offer at any given point in time. I have taken up different things at different phases of my life based on the given opportunity or sometimes even challenges that has pretty much shaped my career to date. Now, when I look back it seems that everything that I did was perhaps predestined to shape the person or the professional that I am today. Even if you look at my choice of subjects for research, it has also been situation driven.
'My research journey has been an interesting 'journey from jingles to journals'
Anything that involves thinking, creativity, putting my own perspective interests me. I can recount that back in my school days I was heavily into singing, I was undergoing my Hindusthani classical training and there wasn't a single school function that I wouldn't be called for. I did radio and television performances too from the age of 6. Later sang jingles too. Everyone around me thought I would take up singing as my profession. I was too busy doing things that I like- music, art, etc. and not really think about what I want to be. Studies were part of my extra-curricular and I guess that was the best part. Whenever I studied I enjoyed it and grew a deep fondness for reading and writing for which the results were pretty good too.
So even after my MBA with a gold medal, I took up sales and marketing profiles in a media company, alongside doing part-time teaching at BBA/MBA institutes. I took to teaching because I never wanted to stop learning. I knew that if I had to teach, I had to read more and keep learning. During my 5 year stint as an industry professional, I was making up my mind to find ways where I could read and write more and by the virtue of good marks that I had scored, I was confident that I could pull off a Ph.D. Cracking the IIT Ph.D. entrance came in as a big opportunity to learn more, read more. I guess because of my industry stint I was extremely confident in my interview. I remember my research idea was on advertising effects and I had actually done a quick qualitative interview with the clients that I was handling at that point and certain observations. No one told me to do that, but I did it out of my sheer quest to do it well. Of course later during my Ph.D. days I shifted to retail as my domain of research. Even during my Ph.D. days I was pretty much into singing and had my album out which was incidentally covered by media, IIT, and all over. So you see, till then education has always been like a co-curricular activity that I have been most passionate about. Being at IIT, going to the US in a student exchange at the University of Nebraska actually opened my eyes to this whole new world of research, and that's when I got extremely serious about pursuing a career in academics and research with a lot more focus. Of course, life has not been a bed of roses either, I had my ups and downs and very difficult personal phases of losses through my Ph.D. years, but I guess what kept me going through thick and thin was I drew a lot of personal motivation in learning, reading, and writing. Believe it or not, research has been a fantastic stress buster at times for me perhaps because I did it with a lot of love for the sheer joy of learning. 
Infact, taking to case writing came in a bit late. When I got into a full-fledged academic career in my post PhD days, I was reading a lot of cases for my class discussions. Eventually my institute also pushed me to attend a case writing workshop by Ivey.
I was extremely fond of teaching cases in the class and thought it would get even more interesting when I can teach my students about companies and industries that I am most familiar with. My industry background helped, I was always in touch with my friends from the industry, so got in touch with them, expressed my idea and they agreed.
2. How to choose a protagonist or a company for case writing?
Choosing a company or a protagonist is very important. Ideally I would choose a company and the protagonist is a 'given' as I write marketing cases. Typically I would choose a company, based on my secondary research, I will perhaps bring in a few examples around the company in particular courses and see how students relate to it. If the response is positive, then I would have a rough idea on which courses the case could fit in. All this is in the pre-planning stage. Once I see merit, I would try to initiate contact with the key person in the company and approach writing a case. Primary research based cases are always more interesting, but the protagonist needs to agree to you writing the case. Frankly, I feel that a case writer's personal industry connect helps. When you have a good industry connect, your familiarity with the industry or in some cases with the key stakeholders' ways always helps. When I started writing cases, I started with media industry cases because I was well acquainted with the industry and knew who to get in touch with. Since during my industry days, I was handling clients from different industry that also helped in approaching other companies.
3. How does it feel when someone gets an Honorable Mention Award by IVEY Global Case Competition? What has been your experience?
2018 was indeed a special year. When in 2017 we won the overall ISB IVEY global case competition and got the case published by Ivey within a short span we thought of writing two cases for the 2018 edition. The idea was since it is time bound we will have two good finished output from our end within a stipulated time so there's no chance of procrastination. Winning is never the objective, but writing a great case is always on my mind. Thankfully the hard work paid. Both the cases made it to the winner's list. One won the marketing category title and other one won an honourable mention in the overall competition. And that was definitely very very assuring of the quality of the output. Similarly this year we won the runner's up prize for the CEEMAN-Emerald case writing competition. In fact I have been writing cases for a little more than 3 years now and having 4 prestigious global award winning cases and that's definitely a great feeling.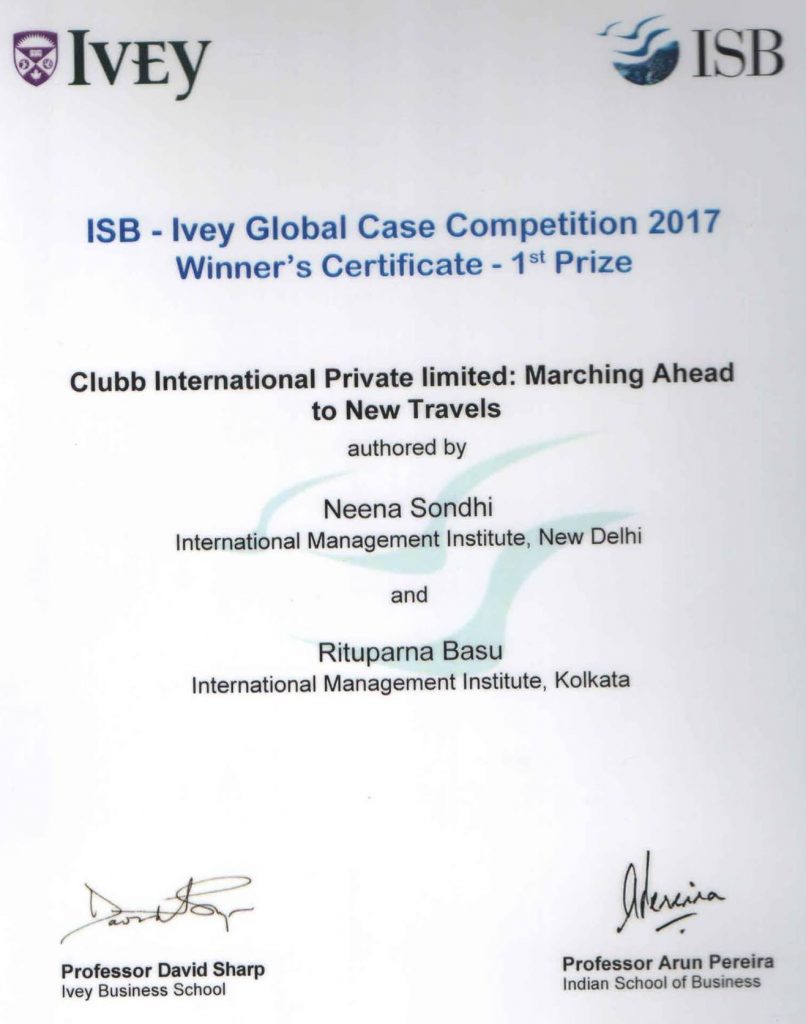 4. Who inspires you every day to get going and create an impact in the research space?
I guess when it comes to writing cases, the inspiration comes from the students. Their interest and expressions when you are discussing a new case in the class is always very encouraging. I feel when a case writer teaches his/her case in a class, a different level of passion is involved that enthuses the students and makes the discussion livelier. Many a times you also have the scope to move out of the boundaries of the case that instantly generates interest and makes it more relatable. It gets real as it is.
However, if you ask me about inspiration in the sphere of research articles, I am deeply inspired by the works of stalwart researchers. It would not be right to name a few but if you insist, I really follow the works of Steenkamp, Moorman, Grewal, Batra, concurrently I am quite encouraged by some of my contemporary researchers are aggressively shaping their publication career. Many of them have an incredibly inspiring journey.
5. A lot of young scholars aspire to be like you. What's your message to them to become a star researcher, case-writer like you?
My piece of advice for young researchers would be "Believe in yourself and work hard and never stop learning." There's so much happening in the research sphere now, you need to be consistent and persistent with your effort. When you are starting your research career in your post PhD years, the best would be to concentrate on writing journal articles. Personally I feel that case writing has a different space altogether. Case writing requires a fair amount of industry working knowledge, so if you have a working knowledge in a specific industry it would be better to start writing on it. Having said that, I would like to point out that since the biggest challenge of case writing is about writing a great teaching note, a good case writer would be someone who has a lot of teaching experience that will help him/her write a sharper teaching note. So for young scholars interested in picking up case writing, they should look at collaborating with matured case writers who are strong with their industry familiarity and has rich teaching experience.