Director IIM Trichy, Prof. PK Singh has served as Director of Management Development Institute Gurgaon and Director In-charge of Indian Institute of Management Indore. In the role of mentoring of the Indian Institute of Management Sambalpur, he served as the first Chairperson of the Academic Committee and as a Nodal Officer of IIM Sambalpur. Dr. Singh is in academics for more than three decades including being Professor of Organisational Behaviour and Human Resource Management at Indian Institute of Management Indore for about 15 years.
He had earlier served as faculty at National Institute of Industrial Engineering Mumbai, Indira Gandhi National Open University New Delhi, Kanpur University, and Vikram University at Ujjain. Prior to joining academics, he worked for the Bank of India as Industrial Relations Officer having served at Jamshepur and Ranchi. 
Prof. Singh talked about 4 types of teachers depicted in an interesting matrix.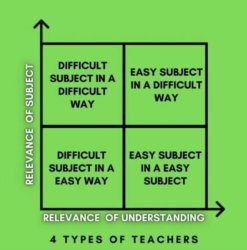 Dr. Singh has published books on Managing Interpersonal Conflict, Management Sutras from Sanskrit Scriptures, Jeevan Prabandhan kee Shaayaree, Poetic Hindi Translation of Thirukkural, and a booklet on Human Resource Management for Technical Personnel. 
He has been a member of high-profile committees of the government and various institutions. His talks and interviews have been broadcasted on national channels of television and radios. As for hobbies, Dr. Singh enjoys traveling, music, cricket, poetry, astronomy, and reading quotations.
His favorite quote: We are always preparing to live but never living.
YouTube Link : Prof. Pawan Kumar Singh (Teacher's Day Special) | Director IIM Trichy
Prof. Singh is a prolific writer. His books are for young professionals who wish to learn management lessons from scriptures. His latest book can be bought from here.
His other book is a Hindi translation of Tirukkuṟaḷ.
The Tirukkuṟaḷ or shortly the Kural, is a classic Tamil language text consisting of 1,330 short couplets, or kurals, of seven words each.
For more information, about Director IIM Trichy, Visit Official Website 
https://inkpothub.com/research-stories/prof-sujeet-k-sharma/
Ph.D. Admission Expereience | ft. Dinesh Prabhu | IIM Trichy
https://inkpothub.com/ph-d-in-management/admission-experiences/phd-admission-interview-experience-2021/
https://inkpothub.com/ph-d-in-management/programme-overview/phd-at-iim-trichy/