IIM Udaipur Director | Prof. Janat Shah unveiled the reasons: –
What's his ideal IIM Udaipur? – What strategies worked for IIM Udaipur in becoming IIM Udaipur?
He has shared his personal journey of managing IIM Udaipur for 2 terms. We would learn how he left his corporate job as he was not enjoying and meanwhile just to earn a stipend he applied for a research program. He had no clue at that time, what is research all about. Still, he landed up at IIM Ahmedabad.
That journey went so heart-touching for him. He taught at IIM Bangalore before joining at Director position for IIM Udaipur. He made IIM Udaipur one of the best Research Institutions in India. The Institute has been developed highly inclusive for the researchers. The institute offers you a world-class collaboration with researchers. To know more, watch the full video.
Under the leadership of Prof. Shah, IIM Udaipur has achieved multiple milestones in less than ten years including its position being listed on the QS 2020 Masters in Management (MIM) Rankings as well as the Financial Times (FT) MIM Ranking 2019, recognized globally as key indicators of excellence for a B-school. IIMU is the youngest B-school in the world on both these rankings.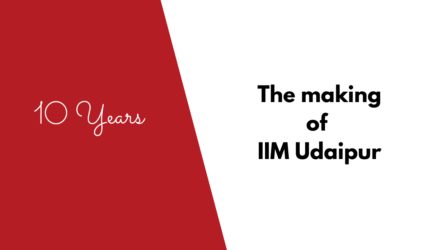 IIM Udaipur has arrived on the global education scale by gaining accreditation from the Association to Advance Collegiate Schools of Business (AACSB). With this accreditation, the institute has joined the elite group of 5 percent of the world's B-schools to gain this prestigious distinction.
IIM Udaipur was first among the second generation IIMs to move to the new campus in 2016. The institute is consistently ranked in the top 15 management schools in the country by NIRF and first among the second generation IIMs and ranked in the top 5 management schools in research in India, according to the methodology used by UT Dallas.
As Chairman, AIB Management Studies, AICTE, Prof. Shah has been able to influence the board for creating the system of graded autonomy for management educational institutions.
As an author, Prof. Shah has written Supply Chain Management: Text and Cases which was published by Pearson Education, India.

As a researcher, he has contributed to multiple prestigious management journals which are recognized internationally. Some of these journals include the European Journal of Operations Research; the International Journal of Production Economics; the Journal of the Operational Research Society; and Operations Research Letters.
He has received Best Faculty-Overall: Student Award (1999); IBM Faculty Award (2008, 2005, and 2004); Prof. M.C. Puri Award, Operational Research Society of India (2017) and Change Maestro and Institution Builder of the Year Award by Industry Academia Conference (2018).
His Mantra For Success: Hard work, long-term orientation, empathy, and compassion for the people around you.