Dr. Anil Gupta is a SENIOR ASSISTANT PROFESSOR [Level 12] in the School of Hospitality and Tourism Management, Faculty of Business Studies at the UNIVERSITY OF JAMMU (NAAC A+).In addition to teaching and research; he has served as Assistant Dean (Student Welfare) and is presently the member of Institution Innovation Council (IIC) and University
Business Incubation and Innovation Centre (UBIIC). As an extension activity, he is working as an Honorary Joint Secretary with the Indian Institute of Public Administration, J&K Regional Branch. Dr. Gupta has published over 40 Research papers in leading International and National level journals including the International Journal of Information Management (ABDC – A*), Behaviour & Information Technology (ABDC – A), Journal of Retailing and Consumer Services (ABDC – A), Marketing Intelligence & Planning (ABDC – A), Journal of Hospitality and Tourism Management (Emerald), Journal of Indian Business Research, (Emerald), Tourism (Croatia), Tourism and Hospitality Management.
He has also edited 8 books on Tourism Management and has undertaken UGC Major
Research Project and was the Deputy Coordinator for UGC Innovative Programme on
Composite Culture ManagementDr Gupta is presently Digital India Research Initiative (DIRI) Research Fellow with Indian School of Business (ISB), Hyderabad, and is also a recipient of the Emerald Literature Award 2019 for his research published in the Journal of Hospitality and Tourism Management. He has guided six Research Ph.D. scholars to date in the area of community-based tourism, tourism and technology, pro-environmental behavior, academic entrepreneurship, sports marketing, strategic planning, and university governance. He was the Course Coordinator for Paper – Strategic Management under ePG Pathshala (MHRD) and has also contributed as a content writer for the course in Special Interest Tourism.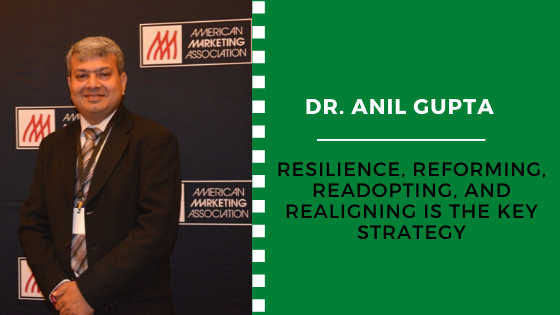 Thank you, Dr. Gupta, for this Interview.
INKPOTHUB: Tell about your research journey so far.
Prof. Anil Gupta: In 1998, I completed my M.B.A. from the University of Jammu and joined as Management Trainee with the Corporate Marketing team with the "Vardhman Group", a textile conglomerate in Ludhiana(headquarter). I am pleased to share that I even got promoted 4 times within the span of 4 years, and future seemed to be bright and opportunistic to me, but when I was looking at my senior colleagues, I realized that with the growing age, you start depreciating (not in terms of net worth terms, but as youngsters, they come are more agile and ready to work). As I was young I could see my senior colleagues were facing a lot of challenges in terms of coping up with the changing times. All this brought me to an academics career where your net value starts increasing with the age, following the experience curve effect.
My father was in the private sector, so I was used to the corporate life, but I learned about University teaching and research from my father-in-law who was a Botany professor. My spouse, Dr. Neelika Arora, who is presently working with the Central University of Jammu always used to quote an old proverb that "Rolling stone gathers no moss", which means shifting from one place to another is not a good life, as it generally happens in the corporate world
After due thought, I resigned from my job and joined Ph.D.in 2002 in Hyderabad but I had to leave that in between, as I was offered a full-time permanent faculty position at the University of Jammu in January 2005. I restarted my Ph.D. again and completed it in 2010. I believe that
"The completion of the Ph.D. is not about receiving a degree, but it is the beginning of the research journey".
Since then I am committed to producing quality research papers. In 2016, I presented my work at the prestigious American Marketing Association (AMA) Winter Conference at Las Vegas, USA. Since then my research work has accelerated, and I have been able to publish our research in ABDC – A & A* international journals.
INKPOTHUB: How you guide your Ph.D. scholars in their respective fields?
Prof. Anil Gupta: I have guided eight Ph.D.scholars to date, across various fields including UNIVERSITY GOVERNANCE, ACADEMIC ENTREPRENEURSHIP, SPORTS SPONSORSHIP, COMMUNITY-BASED TOURISM, TOURISM AND TECHNOLOGY, PRO ENVIRONMENTAL BEHAVIOUR, and many more.
I always ask my scholars to love their respective research areas. Unless and until they love their research domains, they would never enjoy doing research. So, I guide them to pick up an area for which they feel passionate about.
My first student was a fitness enthusiast and a sportsperson, so I guided him to work on some sports topics. My second student was dealing with quality assurance issues at the university level, so I guided her to pursue research in innovation and academic entrepreneurship, which is a highly promoted topic these days. The other scholar loved technology topics, so I asked her to work on tourism and technology, and then her work received the 'Emerald Literati Award' in 2018" for the work published in the Journal of Hospitality and Tourism Technology.
Recently, I have started converging into a few areas, as it seems to be more advantageous. I encourage my scholars to look at their research problem from multiple theoretical perspectives. This method has enabled us to hit some good quality journals.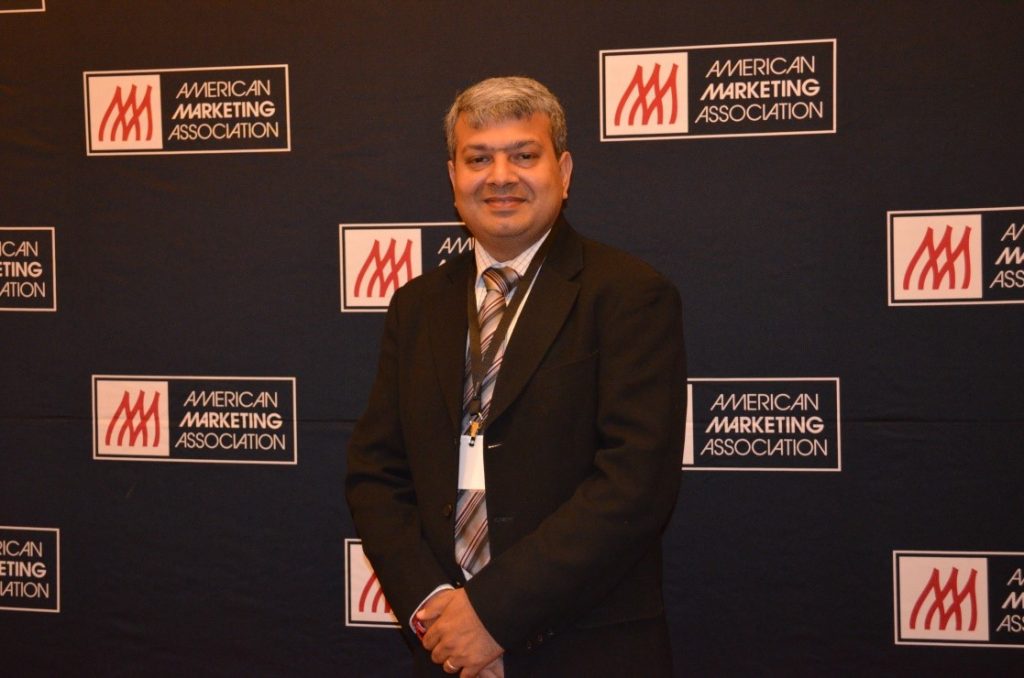 INKPOTHUB: How you keep them motivated in dealing with their paper rejections?
Prof. Anil Gupta: As rejections are never easy to digest and accept, so, whenever we write, we feel like we have created something exceptional, but we can't predict the outcome before publishing. Even after my 18 years of research experience, I feel a fear of rejection. So, I completely understand the situation of young scholars but I always tell my scholars to do their best and improve.
The strategy that keeps me and my students motivated is described in 4 R's:
1 .R- Resilience- After rejection come back and rewrite.
2. R- Reform- With every rejection, just improve yourself and resubmit your paper in better journals.
3. R- Readopt- Appreciate and follow the advice of the reviewers who are experts in that domain.
4. R- Realign -Just promise to yourself to not commit the same mistakes again.
I believe that rejection is the professional hazard, which one has to live with. The earlier you learn to cope with the rejections, the better it is. It is just like creating antibodies in yourself that you cope up well and don't feel dejected after rejection. One has to be optimistic and passionate to overcome rejections and improve performance.
INKPOTHUB: How do you manage time for writing, academic career, mentoring scholars?
Prof. Anil Gupta: Teaching and researching is a 24/7 profession as ideas can come anytime irrespective of the fact that job hours are 9 to 5. If we enjoy doing something, we would always find time for it. Research should not become a compulsion or burden on us.
But yes, it is true that with professional life, it is difficult to find time for research. So, I always look for holidays, weekends, summer breaks and winter breaks. And that is the time which I utilize most for research and capitalizing the thoughts.
INKPOTHUB: What would be your message for the potential researchers/ scholars who want to pursue the journey?
Prof. Anil Gupta: My message for the young scholars is based on the following five dot points:
Find your primary motivation to do research, is it for earning a degree or learning and making a contribution to the academic world.
Teaching and research is a profession where people should come by choice and not by compulsion.
In academics, there are no geographical or discipline-specific boundaries. The geographical location of you and your institution does not matter if your research has something unique to offer. When I talk about no discipline boundaries, a researcher should acquire a little bit of knowledge from various interdisciplinary domains.
Research is not about competition but is all about collaboration. As a researcher, you can excel only if you just compete with yourself, rather than competing with others. As a researcher find out people who are working in similar domains and try to establish linkages with them. When you collaborate, you learn from each other and the overall learning amplifies.
Remain humble and grounded, once you start thinking that you know everything, you close doors to your success. Don't let success go to your head. Because next time, you would not be able to do better than this. So, whenever we begin something new, I and my research team come to level zero and we assume that we don't know anything and try to learn and explore more, and of course, our experience also helps in this.
INKPOTHUB: What are your plans? Are you planning to research on Covid-19?
Prof. Anil Gupta: After the present crisis, the way organizations and individuals look at the future will definitely change. I am focussing on reinventing my own research goals, as what we have been doing for the past few years, may not be relevant and useful for the future. We have to realign our research in line with the changing world.
As a researcher in the management domain, I believe "practice always precedes research".
I have instructed my scholars just to keep the track of disruption, and also be sensitive to what is happening around you, how is the industry responding to the changes. Doing so will help us to explore new research avenues, which will be of relevance to the industry and academic world.
As I work closely with the Indian Institute of Public Administration, it gives me an edge that I have started looking over my research from a policy perspective as well. I am also working on availing research grants from the leading funding agencies like UGC & ICSSR and other similar organizations. If I get those grants, I would be contributing in my own humble way in that direction.
Also, I intend to publish a good quality textbook on marketing, which is in pipeline and I would soon give shape to it. Though I have edited 6 to 8 textbooks, those are research books, and my future interest lies in writing a good quality textbook for management students.