About the AIB- South Asia Chapter (AIB-SAC):
Conference Announcement by AIB, bring a thought to minds, as to, what is AIB?
The AIB is the leading association of scholars and specialists in the field of international business. Established in 1959, AIB has 3,152 members in 78 different countries around the world. Members include scholars from the leading global academic institutions as well as consultants, researchers, government, and NGO representatives.
The AIB also has chapters established around the world to facilitate networking as well as the exchange of knowledge at a more local level. The AIB- South Asia Chapter is one of the most active, with a strong focus on developing a thriving research community among scholars based in South Asia with interests in the broad field of international business.
AIB South Asia Conference 2022 is the Conference of the South Asia Chapter of Academy of International Business to provide AIB members of Bangladesh, Bhutan, India, Maldives, Nepal and Sri Lanka with opportunities for the exchange of ideas, for the presentation of research, for professional contacts, and for discussion of matters of mutual interest and concerns.
Prof S Raghunath, Professor of Strategy from Indian Institute of Management, Bangalore, India is the current Chair of the Chapter, The details of the Executive Board of the Chapter can be found on:
Submission deadline : December 12, 2021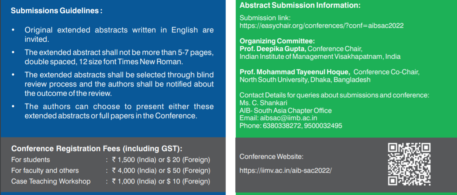 The Conference format is combination of interactive paper sessions, plenary speaker sessions and case teaching workshop.
Conference Tracks:
Submissions addressing the conference theme may pertain to the following potential topics including and not limited to:
Impact of COVID-19 and sustainable development
Failures and survival strategies during COVID-19
International entrepreneurship
International finance
Impact on SMEs, MSMEs and new ventures
Aatamnirbhar Bharat or Make-in-India initiatives
Internationalization and human resource management
Politics, culture, sustainability and internationalization
International marketing
International trade and supply chain management
How digitalization helped economies survive?

Conference Fee:
Registration fees (including applicable GST as applicable)
Students
Faculty and Others
India (₹)
Foreign ($)
India (₹)
Foreign ($)
AIB- South Asia Conference
₹ 1,500
$ 20
₹ 4,000
$ 50
Case Teaching Workshop
₹ 1,000
$ 10
₹ 1,000
$ 10
Note: In order to register for the conference, you must be a member of the Academy of International Business; see https://www.aib.world/membership/ for information.
Note that students are eligible for the concessional membership. Please check the website for details.
IIMV Management Doctoral Colloquium (Virtual) "Shodh Samagam"