Prof. Payal describes herself as a world citizen, who has lived in four countries, namely Zambia, Fiji, England and now in her adopted home – India. as Dean of Research & Management studies, Payal looks after ISH's research output as well as post-graduate programmes, including launching new programmes. Formerly Professor & Chair HR/OB and Associate Dean, International Relations at BML Munjal University.
Prof. Payal is an award-winning academician and prolific writer. She has published 12 books so far and is also the series editor of the Palgrave Studies in Leadership and Followership, a 5-volume series. Prof. Payal is the advisory member of several international, peer-reviewed journals and is a Senior Reviewer, Journal of Organizational Behavior, Wiley. Another feather in her cap is that she is the inaugural recipient of the Andre Delbecq & Lee Robbins MSR (Academy of Management) Scholarship.
She has also been bestowed the honour of brand ambassador for Emerald Publications. In an earlier avatar, she was Vice President of Editorial and Production at SAGE Publications India Pvt Ltd. Payal made the transition from the corporate sector to academics after earning her doctoral from XLRI, a leading business school in India.
Here are the seven publishing traps that one should avoid, discussed by Prof. Payal
Point 1 Weak writing 

Point 2 Framing complex research questions

Point 3 Playing unsupported Hypothesis

Point 4 Late Journal Search

Point 5 Lack of Paper Journal Fit

Point 6 Giving up after rejection

Point 7 Indulging in unethical behaviour
Also, a few questions are also discussed:
What to do when we have publication options in open access journals?
Is an unsupported Hypothesis a result of weak writing?
How to handle the chance of copying from your peers (that is, Mom's test)?
How to decide on your research area?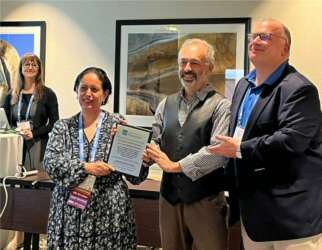 Honoured! Best symposium prize from the MED division of the Academy of Management. With co-conspirator Prof Jacob Eisenberg.
More blogs of Prof. Payal Kumar
The secrets of becoming a good reviewer | ft. Prof. Payal Kumar | BML Munjal University
2. Interview